About
Greater Purpose Health and Fitness
Our team of fitness and nutrition professionals are invested in your health. We make every decision with our members' well-being in mind. Achieve your goals with us!
01
Matthew Chenard
Founder/Coach
CFL1, 2, 3, CF Kids, CF Weightlifting, CESP, NCCP Weightlifting, PNL1, Owner of TrueAlpha Coaching.
Matt spent the majority of his growing up years playing competitive hockey. From as far back as he can remember, him and his brothers spent the majority of their time back and forth to the rink. His hockey career took him many places, and only ended because of a few too many concussions, at which point, he started to seek out something else that would fullfil his love of sport and health and fitness. That is when he found CrossFit. To say he was humbled by his first ever CrossFit workout would be an understatement. He loved the challenge, and loved what it did for him mentally and physically. Soon he convinced his mom and aunt to let him train them – the first ever workout taking place in his backyard, using berries of the bushes to count rounds and reps. From Matt's back yard, to his business partners home garage gym, to the currect GPHF facility, Greater Purpose Health and Fitness is embarking on 10 years of adding health and fitness to peoples lives. The goal has always been simple – to help people be the happiest and healthiest version of themselves possible. Regardless of a persons fitness level, GPHF strives to be a place where everyone can come and feel empowered, and leave feeling a little bit better then when they came.
02
Jilisa Chenard
Owner
CFL1, 2, Precision Nutrition Level 1, CrossFit Kids, HSN certified nutrition coach, Registered Nurse, Certified Eating Disorder Recovery Coach.
03
Gaetes Lomas
Manager, Head Trainer
CFL1, 2, CSEP, CrossFit Weightlifting, Precision Nutrition Level 1.
04
Tom Regier
Trainer
CFL1, 2, Precision Nutrition Level 1&2, CSEP.
05
Michaela Stollery
Trainer
CFL1, 2, CSEP, Registered Massage Therapist.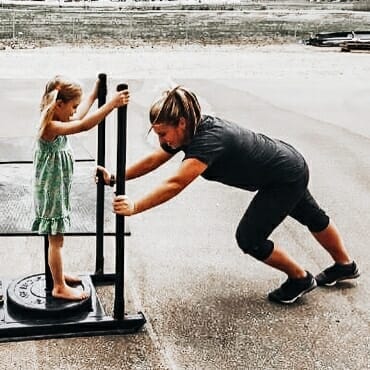 06
Lindsay Nahirny
Trainer
CFL1, 2, Masters CrossFit, Longevity Coach.
07
Kailey Lobreau
Trainer
CFL1, CESP.
Take the first step.
We can't wait to meet you
Chat with a coach at our gym to learn more about what program will fit your goals.
Fill out the form below to get started
Take the first step towards getting the results that you want
Free Intro